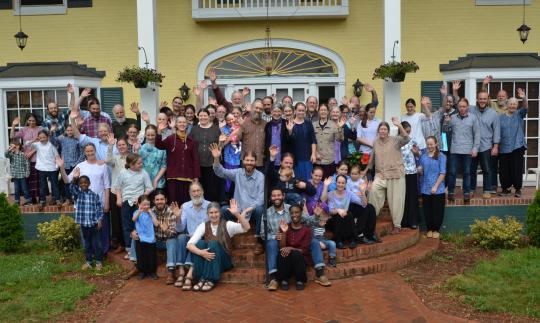 ---
Community in Hiddenite
In the sleepy little town of Hiddenite, North Carolina, we have our Inter-Tribal Community Conference Center. This is where we have conferences with all the communities of the 12 Tribes. Thus, it is a little bit different than the communities in other locations, as it has the special purpose to host these type of big meetings. But we are exactly the same as all our other communities in the fact that we love to receive guests, and we are always open for visitors who are curious about our life together.
We have a small farm here to provide fresh milk for us. And we have a garden for fresh vegetables. There is also a printshop, where we print freepapers and curriculum for our children. 
We opened a Yellow Deli in "downtown" Hiddenite. So now there are 2 Dollar Stores, 1 gas station, 1 little diner, 2 banks, and a post office in our town, along with our very lovely Yellow Deli and the Community Market & Bakery next door. Oh, we have one stop light, also! Our Deli has greatly increased the business of our town, as our Deli is famous in Alexander County for good food! We are happy here, come visit!
Directions
Address
471 Sulphur Springs Road
Hiddenite, NC 28636
United States
Call
Phone
(828) 352-9200